Rosemary Sassoon has been involved in letterforms all her life. Trained as a designer and scribe she later developed methods of teaching lettering before moving to handwriting research. She was awarded the degree of Ph D from the department of Typography and Graphic Communication at the University of Reading for her research into the effects of models and teaching methods on the way children learn to join up their handwriting. The project that resulted in the Sassoon family of typefaces came about when she discovered that no research had been undertaken to find out from children themselves what kind of letters they found easiest to read. Young children were found to be amazingly articulate. Their judgements and comments were instrumental in the design of Sassoon Primary. This work is documented in Computers and Typography.
This is an ongoing project. As the typefaces spread around the world, both to publishers and to be installed in school computers, the need for even more alternative letterforms arose. The sans serif family filled a real need for maximum legibility particularly on screen and highlighted the fact that few designers have faced up to the reality that designing for the computer screen is a new discipline with different criteria for letterforms. Now the interest is in a joined font that will be variable enough to satisfy the needs of advertisers, and educationists around the world in countries that have varying perceptions of letterforms.
Rosemary Sassoon continues as a consultant in the educational and medical aspects of handwriting while concentrating increasingly on the problems of modern communication. The layout of the screen, the relationship of illustration to text, the multi cultural aspects of letters for reading and writing as well as the impact of the computer on iconic communication all vie for attention. She continues to lecture widely, and writes and advises on the subjects that come within her areas of interest.
Since 1985, in partnership with Adrian Williams a whole range of font products for reading and handwriting education in schools has been developed until 2016.



Adrian Williams began his career converting many established metal designs for the new filmsetting devices in 1969; an era when Other Equipment Manufacturers offered their devices, each with its own kind of unit system for the operating program. During the 70s he became involved with converting typefaces to digitised systems and is responsible for many original designs which he redrew, working with each Manufacturer to make fonts for their unique formats. This led to the production of custom made fonts, designs for Corporate Identity and Branding commissions.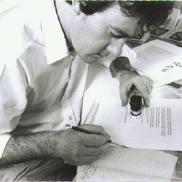 CLUB TYPE was founded in 1985 and established to offer a range of exclusive typefaces arising from a demand for quality typefaces on dedicated typesetting systems created prior to the emergence of PostScript. Members received the entire annual design output as fonts meeting their specific machine requirements, with four colour specimen books imprinted for Members' distribution. Between 1986 and 1990, nine families were converted from the original drawings which began the Club Type Collection which continues to grow.
Advances in technology have made the Club Type Collection widely available for many popular electronic publishing systems' formats. Club Type now offers its products direct to Users and also world-wide through distribution agreements with FontShops, Monotype, FontWorks, Faces.
The Collection continued to offer further original typeface designs of relevance. To achieve more awareness, in 1994 a specimen book was produced aimed at Typographers, Creative Directors, Advertising Agencies and Design Groups - the specifiers of type. The Club Type Collection was included in the Monotype Typeface Library CD-ROM from v4.0 upwards in the 'Type Designers of the World' section and the later 'Creative Alliance' CD-ROM, making it more accessible world-wide. Newly released typefaces and special offers update the Collection which is now offered by more distributors world-wide.
During 1995, the FONTfitter software was developed in response to a growing number of Users making their own fonts. Given a typeface's attributes, the software accurately calculates sidebearings for the base 255 characters, saving many hours of work when converting a drawing into a digital font. From May 1996 Club Type products were being offered on the Internet. Today the typefaces are offered for Desktop and Web use.